Health
SADH Care Hospital: SADH Care Hospital, a Not-for-Profit multispecialty hospital, was setup in January 2017 by Sentiss Foundation in Pataudi, near Gurugram, Haryana- with the aim to bridge the gap between quality healthcare and affordable treatment. The primary aim of SADH Care is to provide sustainable & quality healthcare services at highly subsidized rates, with the mission of Care, Compassion and Empathy. The hospital is run by experienced and senior retired Army doctors along with Ex-Army paramedics and support staff who have dedicated themselves to the cause of Sharing happiness by enhancing the quality of life. Sentiss Foundation, the CSR division of Sentiss Pharma, supports SADH care Hospital financially and administratively.
Project Drishti: This project aims at tackling preventable blindness by organizing monthly eye clinics for the under privileged people of Pataudi and other remote villages around Nalagarh and Gurgaon. We do this in coordination with the Niramaya Charitable Trust. We have treated nearly 9000 people, while distributing 24,000 packs of medicine and 4462 spectacles. In addition, we facilitated free cataract surgeries for 820 people.
Charitable Dispensary: This project entails sponsoring a charitable dispensary "Mansa Devi Charitable Dispensary" to enable access to medicines and medical facilities for people from villages around our manufacturing facility. Our endeavor is to treat 600 patients every month through this initiative.
Blood Donation Drive: Our manufacturing facility at Nalagarh organizes blood donation drives every year in association with Post Graduate Institute of Medical Sciences (PGIMS), Chandigarh as part of our modest contribution towards society.
Project "Stride Against Cancer": Every year, Sentiss volunteers participate in a walk to create awareness and raise funds for cancer patients. Over the years the Sentiss team has registered its presence through hundreds of volunteers with an aim to sensitize people about this disease and make them aware of the plight of those afflicted by its life limiting conditions.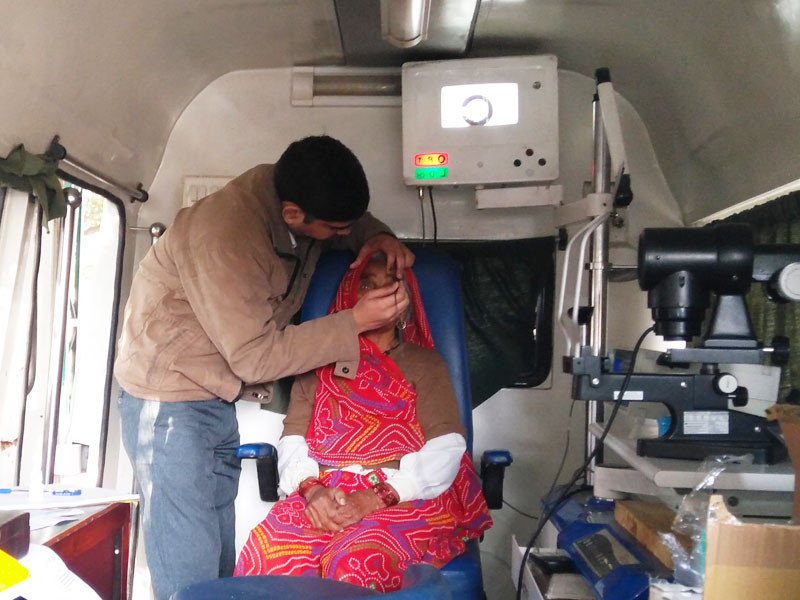 Local charitable dispensary
27 JAN 2015
There was no OPD dispensary in the area nearby. People were also not fully aware about the health and hygiene practices.
Mata Mansa Devi Charitable Dispensary, Nalagarh, HP
Village panchayat, Nalagarh, Himachal Pradesh
795 patients/ month (currently the dispensary is not regularly open due to the Pandemic). 03 camps/ month with an average of 65 patients/ camp
SADH Care Hospital
2017
Not-for-profit hospital set up by Sentiss foundation to provide quality healthcare services at subsidized rates to people of Pataudi and surrounding rural areas (Haryana). There was also no decent primary mother& childcare facility in 30 kilometers radius of Pataudi.
SADH Care Hospital, Pataudi, Haryana
Swami Amar Dev Vidyalaya Trust
Our contribution to the society: 3,500+ minor surgeries, 610+ major surgeries, 56,000+ OPDs completed, 2,800+ in-patients served, 489 babies born
The mother and child-care facility is soon reaching the milestone of the birth of 500th baby at the facility
10-bed COVID care ward at SADH Care Hospital
2021
To cater to COVID patients during the second wave.
A 10-bed dedicated COVID care ward NGO. Crowdfunding through Milaap social ventures India Pvt Ltd.
I Am Gurgaon, Service-Beyond-Borders, hand In Hand USA, SETU
Catered to about 700 patients.
Free 1000 vaccinations for rural population
2021
Rural people were largely non-vaccinated and could not afford to pay for vaccinations for COVID.
I Am Gurgaon and Medanta
1020 people vaccinated free of cost
Dental and eye checkup camps
2018
Promotes self-awareness among children.
Dental Camp in Two adopted schools / Eye checkup Camps, Nalagarh, Himachal Pradesh
Dental Hospital, Bhud and Malhotra Hospital and Government Hospital, Nalagarh.
195 students were a part of these camps, where doctors referred some students for further examinations for their eye and dental conditions
Blood Donation camps
2016
Also promotes awareness about thalassemia.
Blood Donation, Nalagarh, Himachal Pradesh & Gurugram, Haryana
PGI-Chandigarh and Red Cross Society of India and Rotary International.
192 units of blood has been donated in the past one year
Physiotherapy clinic and doctor at Deepashram
2013
Regular physiotherapy keeps the mobility of their limbs intact.
Weekly maintenance of the clinic by our physiotherapist.
Special permission is needed from the Bible Society for organizing a visit.
Mother Teresa of Kolkata Trust, Deepashram
The objective of this event is to encourage the artistic ability inherent in all children and gives them. The space to express their creativity and to sensitize people towards. The needs and abilities of differently-abled children
Drishti
2009
Free cataract surgeries, spectacles and medicines are given to all patients as prescribed by the doctor
Regular Eye Healthcare Services at Village Farrukh Nagar and Pataudi
Ahuja Eye care Hospital, SADH Care Hospital
From 1 Apr 13 to Oct 2021 100% Successful Cataract Surgeries done.
Total number of beneficiaries of camps and OPDs= 60,104. Number of specs distributed for low vision are 22,866 Total Number of camps= 215.
Cansupport Walk
2009
Proceeds from this are given towards the treatment of children suffering from cancer.
CanSupport